Founder discusses how collection embodies "Babes Supporting Babes" plus what's next for brand
Reviews and recommendations are unbiased and products are independently selected. Postmedia may earn an affiliate commission from purchases made through links on this page.
Article content
Brunette the Label (BTL) launched almost 10 years ago as a Vancouver showroom with one staple sweatshirt that read "Brunette is the New Black." That sweatshirt garnered enough attention to persuade founder Miriam Alden to jump into the fashion business head first and at warp speed. 
What started as comfy, inclusive basics and sweat sets has morphed into an all-out Canadian fashion powerhouse brand, with outerwear, satin sets, holiday knits and accessories all launching this season.
Article content
To celebrate the recent launch of the holiday loungewear and satin collections, we chatted with Alden about how she strives to uplift women through clothing and create a supportive community inclusive of all babes.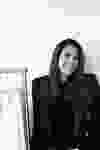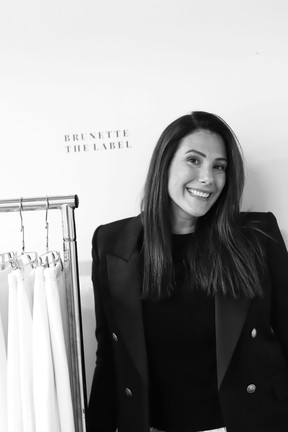 Q&A with Brunette the Label founder Miriam Alden
Q: Who are you?
A: I am the founder, CEO and creative director of the fashion brand Brunette the Label.  I am a mother, a sister, a daughter and a wife. I am a mentor, an animal lover, a competitive equestrian and the trademark holder of Babes Supporting Babes, my life's motto. 
Q: What drove you to start a clothing brand?
A: Brunette the Label was founded very organically. I always knew I wanted to have my own brand, and had worked in the industry for a while in many different areas. I did styling, fashion writing, modelling and wholesale repping other brands. I started as a junior in the industry and was basically a professional steamer for my first year, but I was the most connected to the business of fashion and understanding what retailers and end consumers were looking for. I loved the wholesale part so much that I ended up opening my own showroom after working in one for about five years. I spent a lot of time going to trade shows, driving around to visit my wholesale partners with my showroom, and then started hosting media events for my showroom. We made a sweatshirt that said "Brunette is the New Black" (my showroom is called Brunette Showroom) and a retailer saw the sweatshirt and mentioned they thought they could sell it in their store. So I made 12, then I made 24 and the rest is history. I think it was one of those things where I worked hard, and the road opened up for me so I followed it and it led me to my passion and life's work. 
Article content
Q: What makes Brunette unique?
A: We really are a lifestyle that a clothing brand was built around. "Babes Supporting Babes" has always been what I believe in, for both business and life. I have always believed that there is room for everyone to grow, and work together toward connected success. That if one of us did well and brought the other along then we would both do better together.  So, I wanted to create a label that embodied that. We started in the graphic sweatshirt market when most clothing brands at that time had more of a clean, simple aesthetic. It was right before big bold graphics came back in, so we were early in the market for a lifestyle brand that showed it boldly across the front of your shirt. I think that is why it did so well to start. It was new but it was meaningful.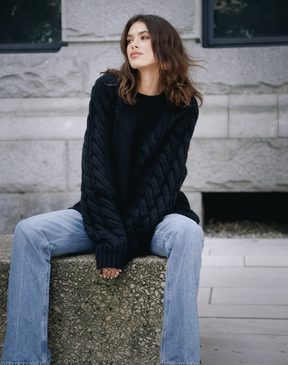 Q: How does your clothing embody "Babes Supporting Babes" and women empowerment?
A: I have always loved fashion but struggled a lot with the exclusivity of it. So I wanted to create a brand that worked for all people who love fashion, and also for people who just wanted to find something that made them feel good, both inside and out. We offer so many different bodies in the collection, lots of oversized cozy fits, and quality is key for me. We also offer the entire collection in sizes X/S- 4/5X. 
Article content
Q: Tell us about your fabrics.
A: Brunette the label was originally known for our sweatshirts, so we have done a lot of cozy fleece, and that is probably what we are most known for. But, since we have moved into many new categories we also do a lot of 100 per cent cotton, cotton spandex basics, cozy knitwear and denim outerwear. Also, we are a vegan brand and do amazing vegan leather outerwear pieces. 
Q: What is Brunette doing to create a more sustainable fashion industry?
A: Quality is probably the most important thing for me, so I want to make sure that everything I make will last. I often see our BTL babes wearing pieces from as far back as 2015 and it makes me so excited. I am very inspired by vintage, and often shop thrift, vintage or resale, and have proudly partnered with Poshmark Canada — a resale platform where we host live shows. We also have a dedicated page to offer a place to sell any stock that we have not sold at full price. Poshmark helps the brand avoid waste of sample pieces and extra products and has the most engaged amazing buyers who love working with us. We also work on a pre-sale model often so we can limit any over-buying or excess product.  
Article content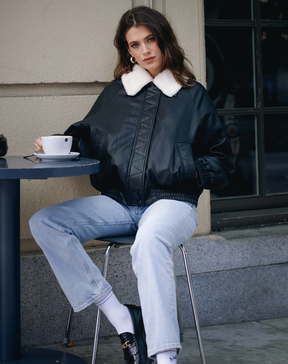 Q: What are your favourite pieces from current collections?
A: This FW23 is my absolute favourite collection we have ever created. A lot of hard work was put into this collection as I believe we have truly evolved into a new era for the brand. Our outerwear and knitwear collections this season have my heart. In particular the Adele Sweater and the Amelia Vegan Bomber Jacket. And our new mix-and-match basics collection is my every day. I live in our ribbed crew neck tee and have all the colours. 
Q: What other apparel brands do you love?
A: I love vintage so I find a lot of my favourite pieces in vintage shops. When I say I wear Brunette the Label every day, I really mean it. It makes up 90 per cent of my wardrobe and my daily looks. For more special pieces or fashion inspiration, I love Magda Butrym, Khaite, Helsa Studio and my favourite luxury brand is always YSL.
Q: What's next for Brunette?
A: I really feel like we have entered our Brunette 2.0 era with this FW23 collection.  I am truly so proud of the hard work it took to get to where we are today. It was not an easy road so I am just trying to be present with where we are and I guess "sit with it" and truly reflect on this new era. But, of course, in true entrepreneurial form, I am also looking forward to what's next. We just finished designing FW24, and I love it all so much. It feels like such an extension of this fall with incredible basics, some perfect stapes, but more fashion than we have ever done before. 
Article content
The brand is officially 10 years old in February and I have grown a lot personally since launching. The girl who started the brand is not the same woman I am today, so I think it's important to grow and evolve and change. But also, my heart and the core of who I am is the same, and I think that shows in the brand and the collection. This brand is a true representation of me and where I am, and I really hope everyone loves it.
Check out Brunette the Label's full offering plus other Canadian brands we love. Explore more up-and-coming fashion brands born in Canada, like new-to-the-scene Ahiri.