Photo: Courtesy
">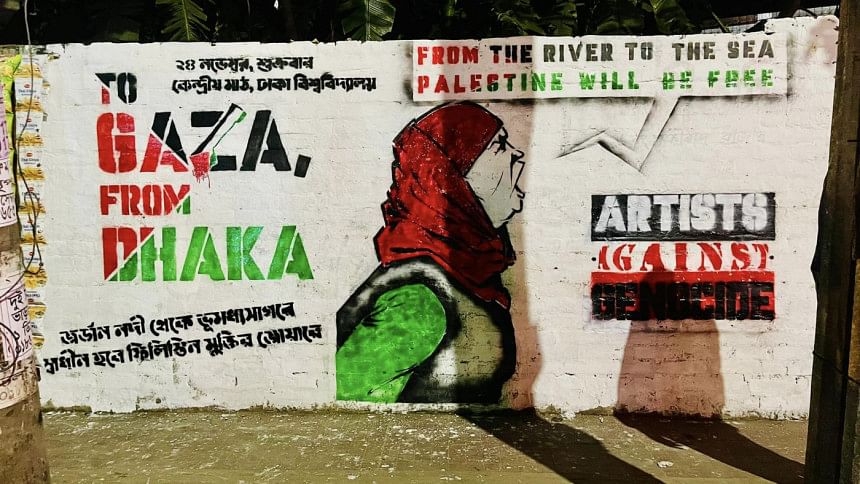 Photo: Courtesy
Bangladeshi artistes and humanitarian activists have come together under the platform Artists Against Genocide to protest the ongoing genocide in Gaza. This fundraising concert titled "To Gaza From Dhaka" will be held at the Hatirjheel Amphitheater on November 24.
According to Artists Against Genocide, the concert serves as a symbolic open letter to Gaza expressing condemnation of the ongoing shelling and bombing in the region. Furthermore, the platform aims to voice their opposition against the longstanding oppression of the Palestinian state during this concert.
Bangladeshi artistes aim to convey a message of solidarity to the people of Gaza, assuring them that they are not alone in this conflict. The funds generated from the concert, in addition to ticket sales, will be directed to Gaza, and everyone is encouraged to contribute by making donations.
Photos: Collected
">
Photos: Collected
All donations will be funneled through international humanitarian organisations, such as the Red Crescent and the Palestine Children's Relief Fund – both actively engaged in assisting Gaza.
The artistes who will be performing during the concert are Maqsood O' dHAKA, Ark, AvoidRafa, Nemesis, Indalo, Meghdol, Shohojia, Karnival, Highway, Hatirpool Sessions, Firoze Jong, Moruvumi, Moonflower, Masha Islam, rapper Shafayat, Aseer Arman, Rezaul Karim Leemon, Black Zang, Muiz Mahfuz, Avishek Bhattacharjee and Ahmed Hasan Sunny. Musicians Prince Mahmud and Latiful Islam Shibli will be featured as special guests at this event.
The initiatives of Artists Against Genocide extend beyond this concert. Cartoonist Morshed Mishu and his group have undertaken graffiti campaigns across 73 walls in Dhaka city, advocating for an end to the war in Gaza. The second phase involves organising concerts, with eventual plans for sustained and organised protests.
Tickets for the concert can be purchased at getsetrock.com. The live dashboard on this website allows you to track the remittances resulting from your donation. Additionally, contributions can be made through bank account transfers.
Account Name: Abdulla Al Morshed & Hassan Ahmmed Sunny
Account No: 1045818200002
Branch Name: Banani 11
Bank Name: BRAC Bank Plc
Routing No: 060260680