Sheikh Jassim Bin Hamad Al Thani has submitted a new bid to buy Manchester United.
The deadline for second bids was 9pm on Wednesday but Sheikh Jassim's representatives asked for an extension on Tuesday and were given more time. The improved bid is said to be highly competitive but also considered and rational.
Sir Jim Ratcliffe and INEOS submitted a revised bid on Thursday night, while Finnish entrepreneur Thomas Zilliacus confirmed his holding company XXI Century Capital has also made an increased offer.
Elliott Management has made an offer to buy a minority stake in the club. The US hedge fund has also offered to finance other parties interested in investing in United and that offer still stands.
The first round of bidding took place last month and it has been reported there are as many as eight separate potential investors.
The highest first-round bids to buy the club were £4.5bn, but the Glazers want at least £6bn.
How Wednesday's bid deadline drama unfolded:
9pm: Deadline for second bids passes, with Elliott Management having submitted offer for minority stake.
9.10pm: Qataris claim to make new, improved, debt-free world-record bid.
9.45pm: Raine Group, the firm handling the sale of Man Utd, say they did not receive bids from Sheikh Jassim or Sir Jim Ratcliffe's INEOS. The Qataris had previously asked for an extension, followed by INEOS. Both extensions were granted.
10.25pm: Raine Group say they have received "many proposals" to buy United before deadline but not from the Qataris or Ratcliffe.
10.35pm: Sky Sports News told that Glazers do want to sell United.
10.45pm: Qataris say they did not submit bid because they were offered an extension which had been granted to other parties and Sheikh Jassim decided to take it up.
10.50pm: Sources involved reveal Sheikh Jassim's bid is ready to go and he did not need extra time.
Zilliacus to rivals: Let's buy Man Utd together
Finish businessman Zilliacus wants to buy half of United with the other half bought by fans, who will be part of the club's decision-making.
Zilliacus, the founder and chairman of social media company novaM Group, has appealed for Sheikh Jassim and Sir Jim Ratcliffe to "join forces" with him and "buy the club together".
He said in a statement: "I have appealed to my two main rivals, Sir Jim Ratcliffe and Sheikh Jassim, to join forces with me so that we buy the club together and that way channel more money to the club for everything from player acquisition to stadium upgrades.
"I however have not received any reply, so XXI Century Capital has increased its bid. We believe our offer, which includes fans involvement in never before seen ways as well as values that the future of the club will be built on, is the best for the club and its fans.
Finnish businessman Thomas Zilliacus reveals what he would like to do with Manchester United if his bid to become an investor is accepted

"We continue to receive strong support from the fans, who say they want to see our bid win. I continue to hope that we could work together with Sir Jim Ratcliffe and Sheikh Jassim to improve the club, but as we have received no replies XXI Century Capital sees no other option than to increase its own bid.
"We are dead serious in our wish to buy the club. We will make it the world's best club and we will significantly grow the already massive fan base around the world by offering fans everywhere unprecedented ways to be involved and to communicate with the club and the players."
What happens next?
It is now up to Raine Group, the firm handling the sale of United, and the Glazers to evaluate all the proposals they have received and decide on the next steps.
It should be revealed next week if there is going to be one preferred bidder, or if there will be another round of bids.
'Are the Qataris playing games?'
Sky Sports News chief reporter Kaveh Solhekol:
"Everyone wants to know exactly how much the bid from the Qataris is worth, but that exact figure is not being given away. I think there were some concerns that the Qataris were playing games in terms of the delay in submitting their second bid, because they went very quiet all week. There was this request that went in on Tuesday for more time and then there was silence until the bid went in overnight on Friday.
"There were people in the US who were beginning to wonder whether the Qataris were actually going to bid, but the information we had was the Qataris were always going to bid. They were just taking their time.
"One way of looking at this could be that the Qataris are just playing a little bit of poker. They want to make the Glazers sweat a little bit. They don't want to make the Glazers think they're desperate to buy Manchester United, but of course behind the scenes, they are 100 per cent committed to buying Manchester United. They just want to make sure they get the best possible price."
Man Utd bidders in profile
A look at the publicly-known bidders for Manchester United…
Sheikh Jassim Bin Hamad Al Thani
The Qatari sheikh is the chairman of Qatar Islamic Bank, one of his country's biggest banks. His father Hamad Bin Jassim Bin Jaber Al Thani is a former prime minister of the Middle East state. There is relatively little information about him in the public domain, but it is known he attended boarding school in the UK and went on to the Royal Military Academy at Sandhurst, during which time he apparently fell in love with United.
Amid potential controversy about state ownership of clubs, Sheikh Jassim was clear when announcing his bid that his interest was a private initiative through his Nine Two Foundation. He hopes to take 100 per cent control of the club and has vowed, if he does so, to wipe all debts and invest considerably in the club and its infrastructure and support local communities.
Sir Jim Ratcliffe
The 70-year-old Manchester-born businessman is one of the richest people in Britain, with an estimated personal wealth of approximately £6bn. A boyhood United fan who grew up on a council estate, he founded the chemicals firm INEOS in 1998 and oversaw its growth to become a company now worth an estimated £50bn.
His interest in sport has become well known in recent years. He owns French Ligue 1 side Nice and Swiss Super League outfit FC Lausanne-Sport, as well as the cycling team Ineos Grenadiers. Last year he submitted a bid to buy Chelsea, where he once held a season ticket, but ultimately lost out to the American Todd Boehly.
Sky Sports News' chief reporter Kaveh Solhekol discusses Sir Jim Ratcliffe's revised bid for Manchester United

Thomas Zilliacus
Finnish businessman Thomas Zilliacus is chairman of the social media group novaM Group and has submitted an offer for Manchester United through XXI Century Capital, an investment firm owned by his holding company.
The 69-year-old, who had a brief political career after attending university, has submitted a unique bid to buy half of the club and says he will allow fans to buy the other half. His net worth is not publicly known, but he is not thought to be worth the same as Ratcliffe.
Manchester United would not be Zilliacus' first venture into sports, having been chairman of HJK Helsinki between 1982 and 1986. He was also an owner of Finnish ice hockey team Jokerit.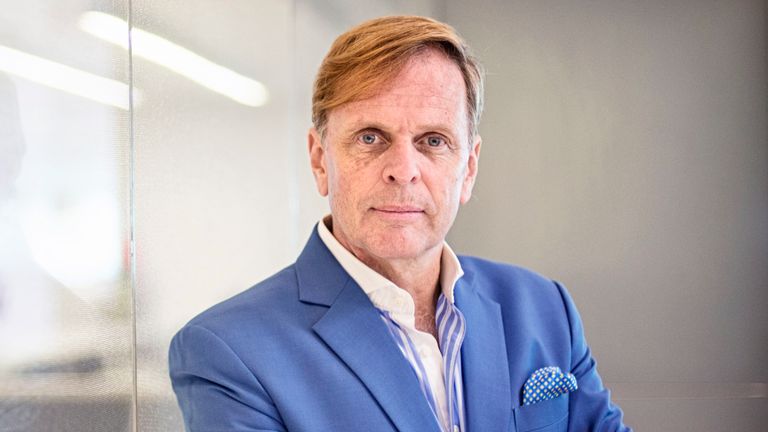 Elliott Management
Elliott Management is a US-based hedge fund that has submitted a bid for a minor stake in Manchester United.
The firm previously owned AC Milan but made a significant profit by selling the club to RedBird Capital for €1.2bn in August 2022.
Elliott took control of AC Milan in 2018 when Chinese businessman Li Yonghong defaulted on a £300m-plus debt to the hedge fund. The firm's London-based managing partner Gordon Singer remains on the board at the Italian club having retained a minor financial interest.
Figures from Elliott, who initially indicated they would help fund a potential bidder, received a tour of Old Trafford and Carrington last week.
The firm's continued involvement in the process has led to suggestions the Glazers are looking to stay at United, with their money potentially being used to redevelop the club's stadium and facilities.