Editor's Note: Sign up for Unlocking the World, CNN Travel's weekly newsletter. Get news about destinations opening, inspiration for future adventures, plus the latest in aviation, food and drink, where to stay and other travel developments.


CNN
 — 

Fancy spending two months traveling overland from Istanbul to London without ever having to get behind the wheel?
Indian expedition company Adventures Overland is about to launch what's being billed as "the world's longest bus journey."
Due to depart in August, the 56-day trip, which is available for up to 30 passengers, will span 22 countries, taking travelers from Turkey's largest city, through the Balkans, eastern Europe, Scandinavia and western Europe, to the UK capital.
A ferry crossing on the Gulf of Finland, a visit to the North Cape (or Nordkapp) – the northernmost point in continental Europe and a cruise along the Norwegian Fjords – are listed among the highlights of the 12,000-kilometer journey.
The entire package, which will set travelers back $24,300, includes a daily breakfast, along with 30 lunches and dinners, as well as all hotel stays (on a twin sharing basis).
While traveling on a bus for two months might not sound hugely appealing to some, the vehicle is described as "a special luxury bus designed for comfortable long-distance travel."
Those on board will be able to relax on recliner adjustable seats "with ample legroom" and avail themselves of AUX and USB ports, a foldable tray and bottle and cup holders. Each passenger is permitted to bring two "full-size suitcases" with them.
Bus to London has been devised as an alternative to Adventures Overland's annual Road to London route, partly inspired by the Hippie Trail buses that traversed the world during the 1950s and 1960s, which was set to begin in 2021.
However, the route, which covered destinations such as Myanmar, China and Russia, currently closed to international visitors, was unable to launch as expected.
Adventures Overland was founded by entrepreneurs Tushar Agarwal and Sanjay Madan back in 2012, who went on to organize various India-to-London expeditions, in which travelers bring their own cars and travel in a convoy, as well as journeys across Iceland and Russia, before introducing their first cross continental bus journey.
"Every single route in each country has been vetted to ensure that the journey is seamless so participants on Bus to London can get on board with the knowledge and confidence that they are in safe hands," Agarwal says in a statement.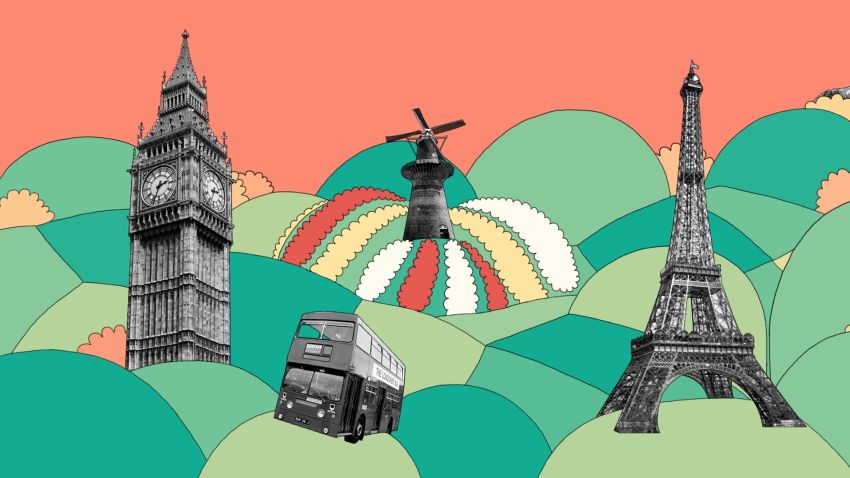 The road trip that inspired the Lonely Planet guidebooks
"Providing a niche and classy experience in a secure environment is our top priority. We take charge of documentation, paperwork, visas and permits to ensure that the entire focus of participants is on experiencing the journey."
According to Guinness World Record, the current world's longest bus route runs for 6,200 kilometers, connecting Peru's Lima to Rio de Janeiro in Brazil.
Last year, Swiss railway company Rhaetian Railway set the record for the world's longest train with the launch of a 1.9-kilometer-long (1.2-mile-long) train with 100 coaches that travels along the Albula/Bernina track from Preda to Berguen.
Bus to London is scheduled to leave Istanbul on August 7 and arrive in London on October 1.